Oh, the joys of graphic design…
If you're a designer like, you will have Photoshop open every time your computer starts. There's always something that needs tweaking such as resizing photos, removing the background from images or even working on screenshots. But what if you're not a designer?
I asked a few of my friends (entrepreneurs, PAs, content marketers, etc) what are their biggest struggles for not being a designer – or having to deal with one.
Here's what they said:
1- Wasting hours on Photoshop
"I was bummed when I realized that I waste at least 4 hours per week playing around with Photoshop trying to create my facebook banners by myself. I should be using my time to get more clients instead of trying to be something I'm not." (Jane Young, CMO at Runalong)
2- Having no colour sense (and being typography clueless)
"I can never match the right ones… Same with fonts: No idea which font to use for a better user experience." (Aditya, Co-founder at DIKY)
3- Having to depend on someone to do basic things
"Yesterday I tried to change the colours of our logo to print it on t-shirts and I got so frustrated that I couldn't do something that's supposed to be SO EASY!" (Lia, Executive Assistant at Stratified Medical)
4- Looking for a freelancer
"We are going through a complete rebrand and it has been extremely hard to find a freelance designer that's a good fit for us. It can take days searching for one and the worse thing is when they disappear on you in the middle of the project." (Andy, Commercial Director at Zion Flats)

5- Having to deal with "designer tantrum"
"What about when you need something designed the way you want and the designers decide they "know better"? C'mon, I know my audience. They just don't accept criticism." (Flavio, Marketing Analyst at Evino)

6- Designers take their time
"Having to wait for an agency or a freelancer to come back to me with small amends is quite irritating! I understand the fact that they have to deal with lots of clients, but if I knew how to design, I believe I'd get what I want faster. (Jade, Content Marketer at Litmus Agency)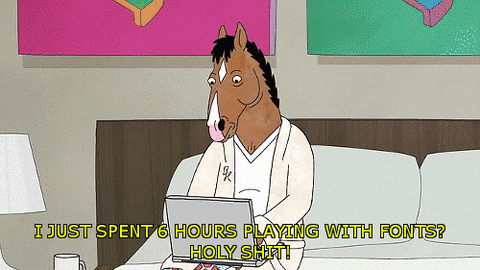 7- Revisions cost a lot of money
"We do change our minds a lot – too much if I'm being honest – and being charged by the hour or the number of revisions we make can get pretty expensive" (Marcos, Social Media Manager at Academia do Marketing)
8- Lack of experience
"When you're not a designer, it's hard to think of a non-aesthetical point of view. Something is not great just because it's pretty. Great designers think about the experience, functionalities, innovation and durability." (Bernardo, Chief Happiness Officer at TheBridge.Social)
What about you? What are your struggles? Let us know through this quick (and super fun) quiz 🙂
Get your professional designer to do all your graphics for you. Get a full refund if you think we're not a fit. What do you have to lose?
TRY NOW