14 Black Friday marketing strategies to attract more clients in 2023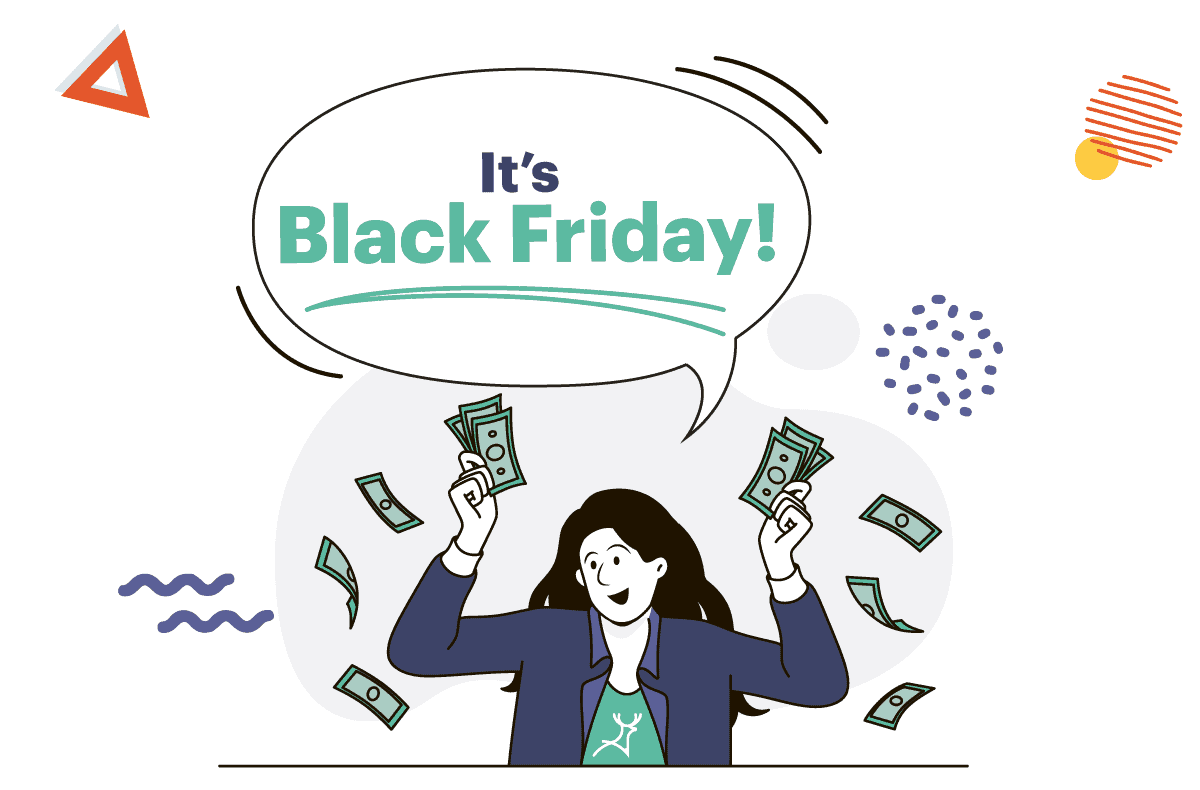 A few weeks ago, my husband told me that a superhero movie that was about to come out had gotten 5 stars. That got me excited, so I asked him to book some tickets ahead of time. We were too early, though, so we couldn't buy online.
A few days after that happened, I saw an interview with the main character on social media, so I asked my husband again if there had been any luck with the tickets. Sad to say, none. It looked like we had to go to the theater in person to buy tickets. I didn't bet on it happening because we're both very busy at home and at work.
Waiting passively is not my thing, so I looked for other ways to get tickets. I signed up for the production company's newsletter, and sure enough, after a few days, I got an email telling me when that movie would be playing in our area.
That email had an exclusive link to a ticketing portal where I finally purchased two IMAX tickets! Woot! You know where to look for me this weekend.
Now, here is a question about marketing:
How many touchpoints did I have before I bought the ticket?
Three. The movie review came first, then the social media interview, and finally email.
I am a fan and a hot lead, so I was easy to sell to. But even though I was a hot lead, I still needed three points of contact before buying. And mind you, I had to go out of my way to get what I wanted.
Think about this. How many touchpoints does your potential client need before you convince them to buy your service or product on Black Friday and Cyber Monday?
Here are some suggestions:
1. Advertise as early as now and build anticipation
Since Black Friday is one of the biggest shopping events of the year, it is important to let your target market know that you'll be releasing promotions on that day.
Create a schedule to continuously nurture your audience until the launch of your promotion.
2. Showcase your offer where your market is
Products and services need to be advertised on many social media platforms, websites, and other channels.
There are different ways to do this, but the most important thing to remember is to promote products in a way that makes people want to buy.
3. Build an "early access" email list
To create a sense of urgency and exclusivity, offer customers the opportunity to join an "early access" Black Friday email list.
This list will give subscribers the opportunity to be the first to know about your Black Friday promotions and receive special discounts or perks.
4. Send emails that are interesting and tempting
Deals, brand offers, and upcoming events are often advertised through email subscriptions.
In this case, copywriters should write emails that make people want to buy. This can be paired with deals that can only be used by customers who have signed up for your email list.
5. Use campaigns and ads on social media to your advantage
Promoting brand deals and products through social media marketing works well. Advertisements are put up on sites like Facebook, Instagram, YouTube, and even TikTok.
Be mindful of the kind and size of media you will publish. Instagram and TikTok are great for short video reels that are only one minute long.
YouTube is good for longer ads and video promotions, and Facebook is good for photos that will be published.
How you use each platform makes a difference, but make sure to use each one well. If you're unsure of the best sizes, ask your Deer Designer team.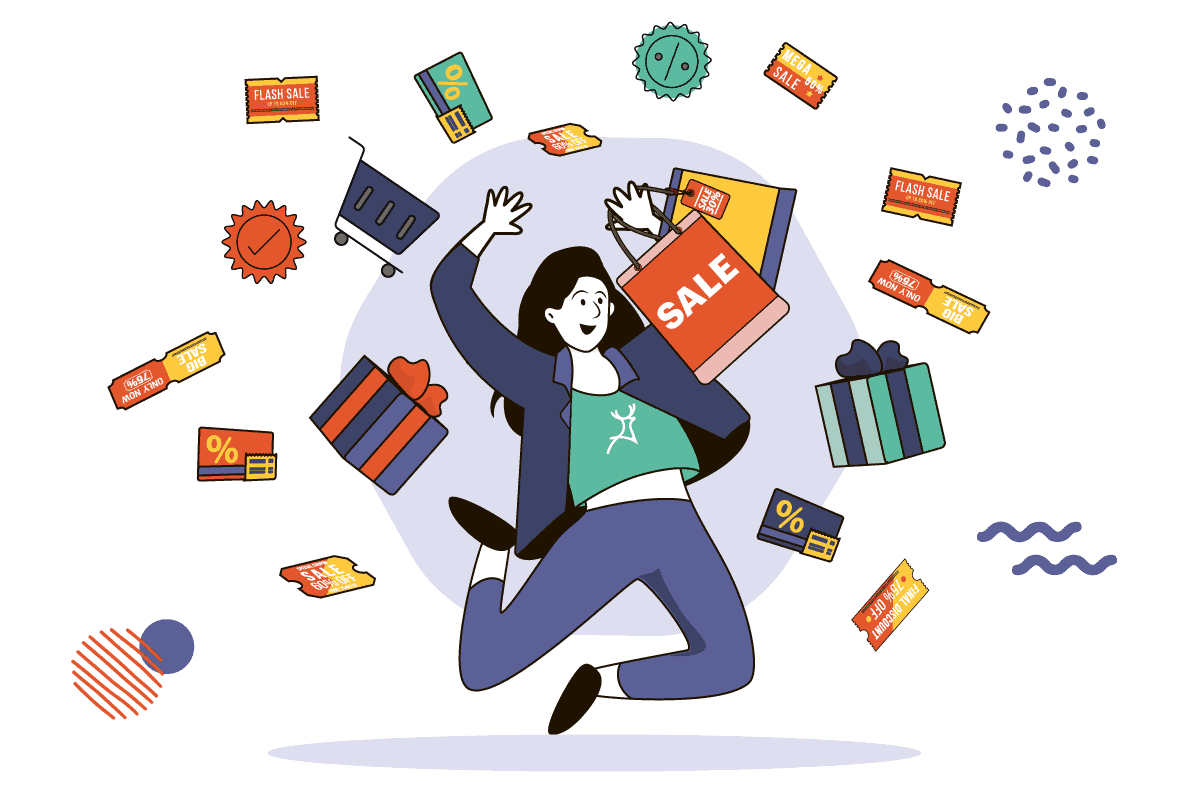 6. Optimize your website for mobile users

With the rise of mobile shopping, it is crucial to ensure that your website is mobile-friendly and easy to navigate.
Optimize your website for mobile users by using responsive design, improving load times, and simplifying the checkout process.
This will make it easier for customers to browse and purchase your products on their mobile devices, increasing your chance of conversions.
7. Collaborate with influencers
Partnering with people who have a loyal following on social media is one of the most effective ways to get attention. Identify influencers in your industry who have a sizable following and engage with your target market.
Partner with them to promote your Black Friday offers through sponsored posts, giveaways, or reviews. Through these partner deals, the brand can get the attention of the influencers' fans.
8. Make good plans for discounts and promotion ideas
Since Black Friday is a well-known event for consumers, discounts can help them buy more products. Customers who want to save money will have a good time with this.
9. Offer multiple payment options
Having more than one way to pay is important for better payment transactions. This also makes it easy for customers to pay, and some even offer discounts and rebates to customers.
10. Count down
Countdown clocks are physical signs that an event is coming to an end. This gives your customers a sense of urgency, which will nudge them to purchase. This makes your Black Friday sales more profitable for you.
11. Make bundle offers
Bundling deals is important for both customers and businesses. Customers can buy more items for less. Some people might buy a product because it comes in a bundle, even though they haven't tried it.
In the end, it's a smart way to market the product or service because it helps business owners sell more and gives customers more options.
12. Offer faster delivery
Service businesses can offer faster turnaround times for deliverables during this holiday season. Faster and free shipping is not just a promotion for physical products.
For example, on a regular day, if it takes you 7 days to complete a web design, you can promise the client that you can do it for only 3 days if they avail of your service on Black Friday.
I know you're hyperventilating just thinking about it. Web design in just 3 days?! Don't worry, it is possible if you're subscribed to Deer Designer.
13. Follow up with customers after the sale
Don't forget about your customers once Black Friday is over.
Send follow-up emails or personalized offers to show your appreciation for their business and encourage repeat purchases.
This will help foster customer loyalty and increase the likelihood of their continued support in the future.
14. Analyze and learn from your results
After Black Friday, take the time to analyze your sales, promotions, and customer feedback.
Identify what worked well and what could be improved for future Black Friday campaigns.
Use these insights to refine your strategies and make data-driven decisions to optimize your marketing efforts for future events.
Good service makes people stay loyal — even after Black Friday
This time of year is a great opportunity to get in touch with old clients and meet new ones. Remember that, right after Black Friday, comes Cyber Monday and the holiday season. So, earning loyalty now is an important investment for your business in the future. With these tips, you'll be on your way to getting new clients in no time!
Remember to impress your customers all year long, not just during the holidays, if you want to build a loyal following and get people to refer your brand.