8 Cost-effective Thanksgiving marketing ideas to attract more clients in 2023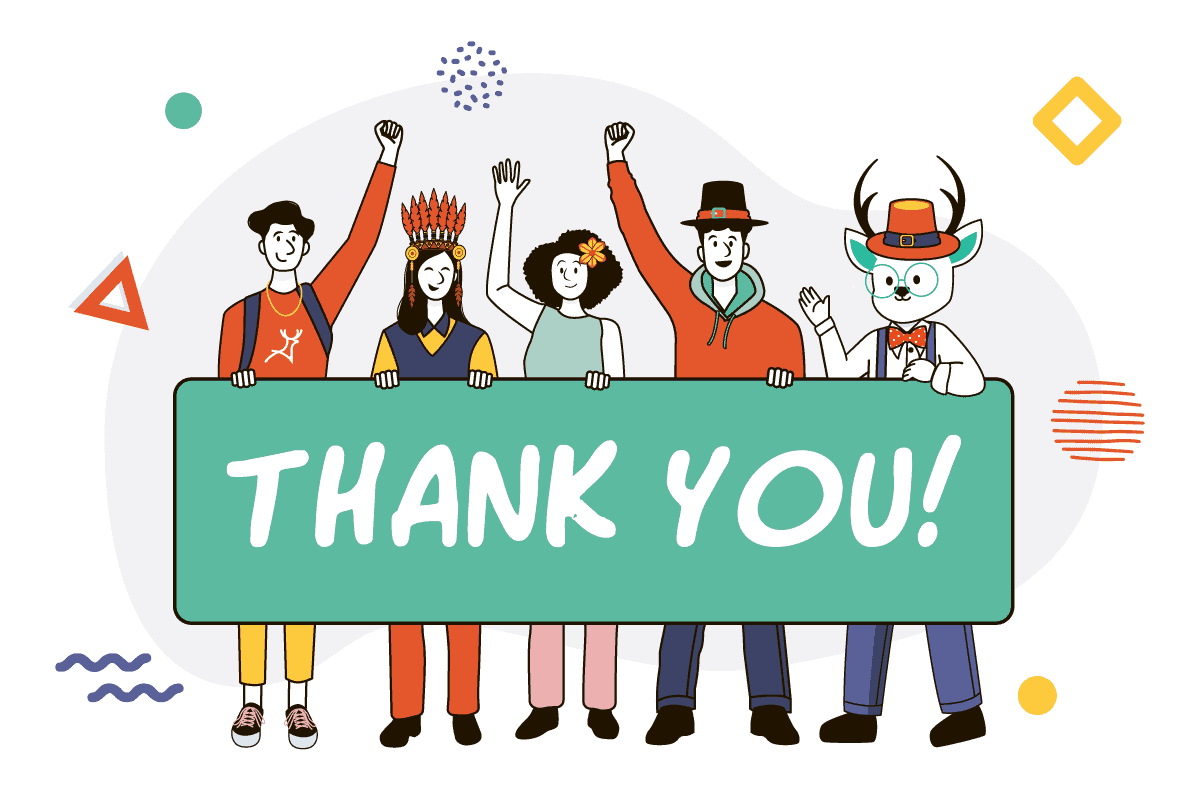 Ever thought about this? Marketing geniuses invented holidays, or at least the hype around them. They are the Thanksgiving marketing masterminds who craft ads and content around your feelings of cheer.
Isn't it intriguing how businesses seize these moments for their Thanksgiving promotion schemes?
And isn't it time you do too?
Companies pull out all the stops to lure customers with Thanksgiving advertisements and holiday marketing campaigns.
Ponder this.
Why do you think Black Friday is the day after Thanksgiving, out of all 51 other Fridays?
It was all planned to get you in a cheery spirit before you splurged on a holiday shopping spree. Thanksgiving marketing campaigns cleverly capitalize on the festive mood, making sure customers are in high spirits before the Cyber Monday frenzy.
The Thanksgiving family gatherings contribute to the upbeat atmosphere, opening up a world of opportunities for other Thanksgiving promotion ideas.
Happy folks tend to loosen their purse strings more, right?
When to market: Thanksgiving versus Black Friday
Now, here's the pickle for small and medium-sized businesses each year. Is it wise to spend your marketing bucks on Thanksgiving, or is it better to just focus on Black Friday? With limited funds, SMBs find it tough to make the call.
As the year winds down, businesses have to up their game to hit their targets and quotas. The scramble to sell more intensifies. With the year-end approaching, businesses are under the gun to achieve their goals.
You might be tempted to give Thanksgiving the cold shoulder and just zoom in on Black Friday, but hear us out. Thanksgiving is a biggie, brimming with a spirit of gratitude.
You don't have to splurge! You can use cost-effective marketing strategies to keep your business in the spotlight during Thanksgiving.
These marketing ideas can be impactful yet easy on the pocket, letting your business stay visible and engaging during the holiday season.
With the right Thanksgiving promotion ideas and marketing campaigns, your business can leave a lasting impression without burning a hole in your company's wallet.
Cost-effective Thanksgiving marketing ideas
1. Give your website a festive holiday makeover.
Make sur it loads at lightning speed, especially on mobile devices. Infuse your landing pages and lead magnets with a Thanksgiving-themed design that aligns with your business goals.
For instance, offer a gratitude-themed service exclusively for the holiday on your website to draw in more visitors.
2. Hold live campaigns on Thanksgiving Day.
Did you know that conversion rates in the U.K. have soared by 26% thanks to real-time marketing? Live polls, contests, and quizzes reward and entice new customers to keep coming back.
Assign someone to respond to live customer queries, hashtags, and comments. Prep possible responses to keep your messaging engaging and on point.
3. Harness the power of email marketing campaigns.

With emails, you can shoot specific holiday messages to people who visit your site. And you can rest assured that your announcement will land straight in their inboxes.
Keep your Thanksgiving email sweet and sincere. If you're sending them a promo via email, use words and phrases that create a sense of scarcity (last chance, never again, etc.) and urgency (early bird shopping, it's time, offer ends in…).
4. Show your clients they matter.
A simple card or email saying "thank you" can go a long way in keeping customers happy. Use this to your advantage by letting them know how much you value their loyalty and patronage.
A well-treated customer is likely to shop from you again and spread the word about your business, which brings us to the next point.
5. Tap into word-of-mouth (WOM) marketing.

A whopping 64% of marketers agree that word-of-mouth is the top-notch way to market a business without splashing out.
Free advertising happens when people rave about how much they love and crave your product on their own. When these WOM endorsements are shared on social media, they turn into user-generated content or UGC.
6. Promote user-generated content.
The most effective and affordable way to market is through online polls, comments on any digital platform, blog posts, videos, or photos posted or shared by users based on their own experiences.
These honest and reliable social proofs of customer satisfaction weren't staged, making them more trustworthy. UGCs are a potent marketing tool. They help build trust in your brand and highlight its authenticity.
Slap your branding on screenshots and videos, then post and share these on as many platforms as you can (Instagram Stories, Facebook and LinkedIn Ads, TikTok, etc.) to maximize their reach and boost sales.
7. Give away and discount your products.
Always remember the importance of giving back. Offering something for free gives you a chance to introduce your prospects to a new product or service. People are more likely to try something new when it's free.
Handing out samples or discount vouchers helps people remember your brand. Folks who sampled your products will probably remember you when they're ready to buy.
8. Maximize free social media.
Thanksgiving social media posts for business can be a fabulous way to flaunt the spirit of gratitude and interact with your audience. You don't have to be cheesy about it, especially since memes and humor posts are the ones that perform well in terms of engagement.
The funny ways to say "Happy Thanksgiving!" and funny names for Thanksgiving can inject a dose of humor into your posts, making them more relatable and shareable.
Using this time to share your appreciation could make you shine. By weaving in Thanksgiving meme references and Thanksgiving family tales, businesses can forge an authentic connection with their audience, nurturing long-lasting loyalty.
Thanksgiving: It's all about the give and take…and a little bit of turkey
Here's a shift in mindset that will change the way you approach the Thanksgiving season as a business owner: It's a time to really lean into your thankfulness for where you are. Treat it as a shout-out to the real MVPs—your customers.
But here's the kicker: you don't have to blow a hole in your wallet or work up a sweat to say 'thanks'. It doesn't matter if there's a turkey in the oven or not, showing your gratitude and appreciating each customer's contribution is like year-round Thanksgiving.
Dialing up your Thanksgiving marketing strategies can boost your clients' love, creating a feel-good club they'll never want to leave.