You have a new website. What's next?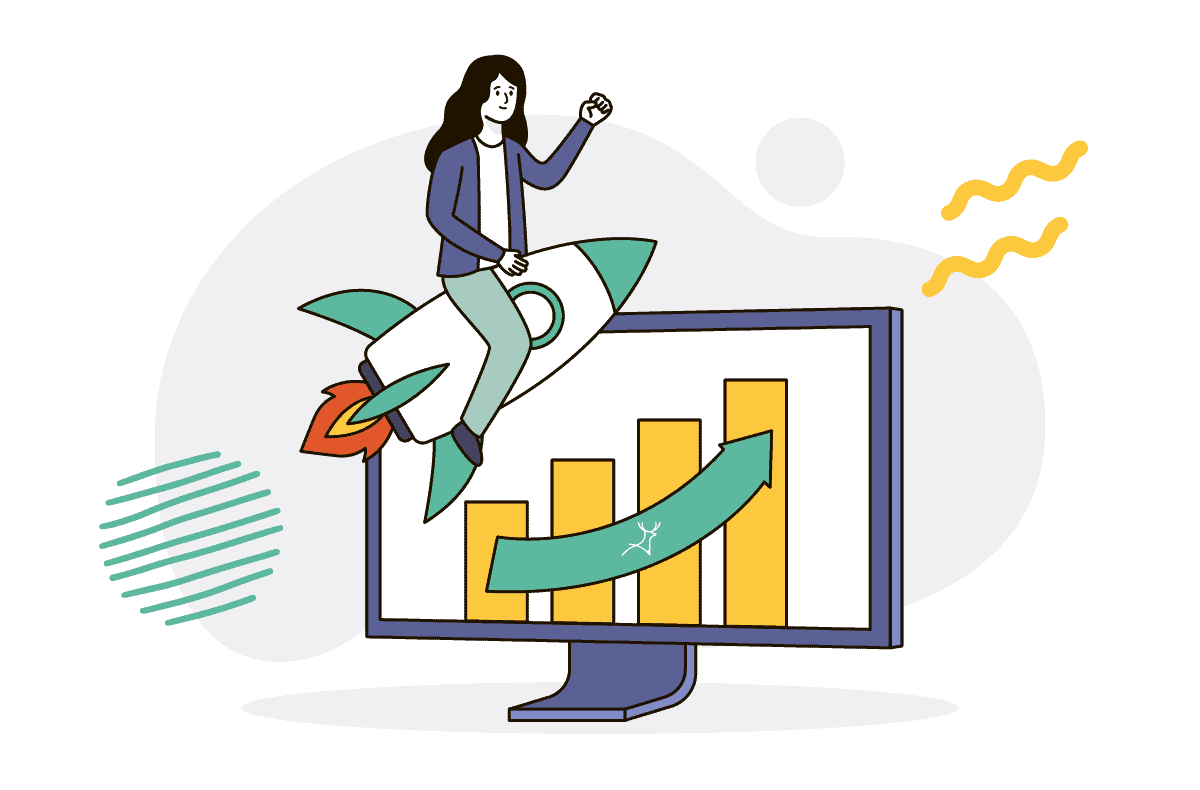 I met with my best girlfriends after 2 years of being apart. We had to restaurant-hop 5 times because the customers looked daggers at us whenever we laughed too hard at someone's joke. We just missed each other so much.
I was more of a listener so we were at the 4th restaurant already before I got the chance to talk about what kept me busy.
I shared that months ago, I started a small business of delivering low-calorie meal plan subscriptions to those who wanted to lose weight.
Unfortunately, I stopped operations after 6 months.
"Why did you just tell us now??" they told me in unison.
I was speechless. Why haven't I? I honestly haven't thought about advertising it to my friends. And there I was, wondering why my business didn't take off. Silly me.
Turns out, all of them had subscribed to other foodservice providers they saw on social media and Google. I can't blame them, they didn't even know my business existed.
I have a new website. What to do next?
Once you have your business or website launched, there must be a year-long promotional strategy to bring people in and eventually rank in Google search.
If you had an old website and revamped it, the sad news is, your statistics will be back to zero and in Google Analytics you will notice a sharp dip in numbers. All the more you need a solid promotional strategy.
Gasp. I spent so much time with the website design, I totally forgot about promoting it!
Keep calm and read on.
How do I begin promoting my website?
There are tons of things to discuss about marketing but to make it simple (because I can feel you're panicking already 😇), you just have to be familiar with the marketing funnel.
Let's begin from the top of the funnel where social media sits.
A common mistake made by marketing rookies is to plan social media independently from the website. With the boom of digital marketing, campaign results show that a social media strategy works best if linked with a website within the funnel.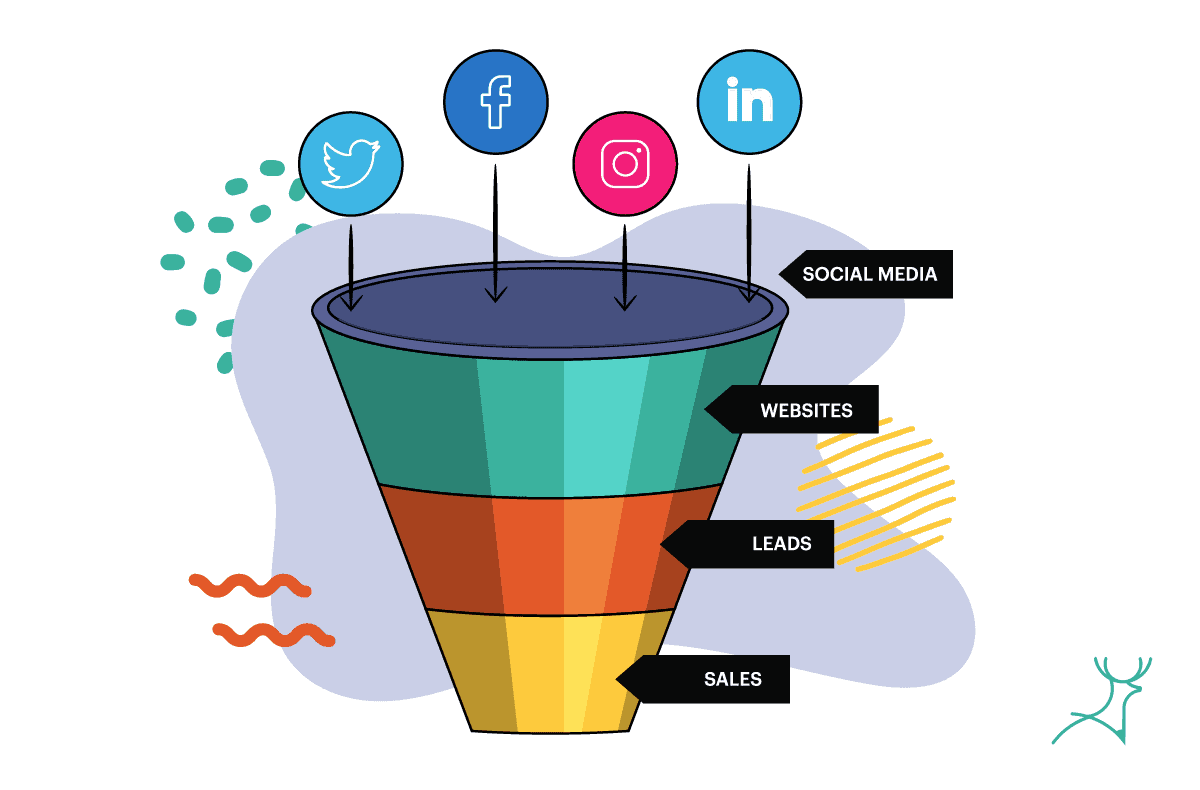 Using your newly designed website's branding, it's recommended that you echo this in social media for more recall.
You can ask the web designer for the same colour palette and elements to create social media graphics for this purpose. Even better if they can do the whole campaign for you!
Social media design checklist
When requesting a social media design with Deer Designer, here's a checklist for you to include in the ticket. This way, you get your designs faster because there will be less back and forth for clarifications.
• What's the name of the brand?
• Who's the target audience?
• In what platforms will you use these designs?
• What sizes do you need them in?
• Do you have a preferred style? (Ex. imagery-based, illustration-based, minimalist)
• Include the copy/text for the images
Double-check your copy because this is what designers will use in the design
Feel free to attach a document or link
Social Media design samples
How do I keep visitors from immediately leaving my website?
It only takes 15 seconds for a visitor to leave a website. Sometimes, it's because they didn't get what they need from it or it was badly designed.
To keep visitors on your website, you need to publish engaging, and easy-to-consume content or articles.
Your website is your salesperson. But unlike the sleazy salesman everyone hates, your website must focus on bringing value, not just to get a sale. You can do this by engaging your visitors in informative and entertaining conversations.
These 4 types of content will boost your website traffic and engagement. As you can see, the Top 3 are all about value.
Content to entertain
Content to educate
Content to inspire
Content to convert
These articles need to be well-written with engaging blog graphics. If you plan on publishing educational content, an infographic is useful because it converts data into bite-sized, shareable pieces.
The more your content is shared, the more eyeballs you have on your brand.
Infographics design checklist
Who's the target audience?
What are the specific dimensions? (in pixels)
Include an initial sketch (when possible)
Include examples of the design style you'd like the infographics to be based on
Include the copy/text/data that'll go on it

Double-check your copy for any typos
Use reliable sources
Feel free to attach a document or link
An infographic takes more time to be designed because of its complexity. But the wait is worth it especially when you get good engagement from people sharing your content.
Infographics design samples
How do I encourage visitors to return to my website?
When you meet someone that you'd like to see more of in the future, you'll find a way to connect with them. In the dating scene, this means asking for their number. In doing business, this is the exchange of business cards.
Through emails, you can connect to your potential client if they're not on your social media channels or website. Now, a sure way to get an active email from them is through downloadables or lead magnets.
In exchange for giving a direct line to their inbox, your potential clients are given well-researched pieces of content they can use for their business.
You have to make these documents truly valuable with excellent design and content. This strategy is highly effective in the B2B market.
Lead Magnets design checklist
The name of the document
Who's the target audience?
What are the specific dimensions? (in pixels or paper size)
Do you have an existing template to be used for it?
How many pages?
Provide all logos, elements, and images you want to see in the document. If you don't have anything, let your Deer Designer know if they need to create any elements for you.
What style should be used? (Ex. imagery-based, illustration-based, minimalist)
Include the copy/text for the document

Double-check your copy for any typos
Use reliable sources
Feel free to attach a document or link
Lead magnets design samples
When a tree falls and no one hears it, does it make a sound?
Even an excellent service or a ground-breaking product is useless if no one knows about it. It's about time to let the world know that you can make people's lives better through your website.
I know there's so much noise on the internet that it's discouraging to wade in with all the nonsense content. But your website can be the breath of fresh air people need.
I encourage you: pepper the internet with valuable design and content. Create beautiful designs and marketing materials to attract people to your website.
Provide value that cuts through the noise. Not only will you get a sale, but you also make the Internet a better place.